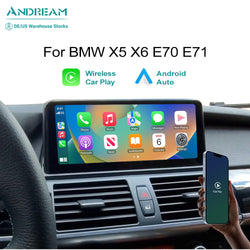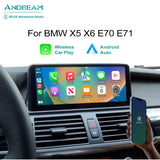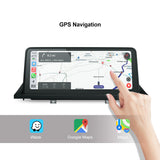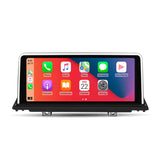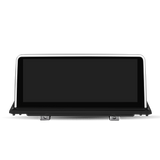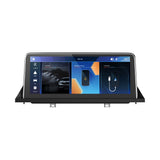 10.25" Wireless CarPlay Android Auto For BMW X5 X6 E70 E71 E72 2007-2013 CCC CIC GPS Navigation Head Unit Car Dvd Player
SKU: EW969QLCPCC
Applicable models and years 
CCC system
For BMW X5(E70) 2007, 2008, 2009
For BMW X6(E72) 2008, 2009
CIC system
For BMW X5(E70) 2009, 2010, 2011, 2012, 2013
For BMW X6(E71) 2009, 2010, 2011, 2012, 2013, 2014
NOTE:
 Please make sure your car has AUX function. The CarPlay head unit outputs sound through AUX.
HOW DOES IT WORK?
While the unit (CarPlay/Android-auto Head unit) is inactive, the original video signal is passed unchanged and your car works as before.

After activating the CarPlay/Android-auto Head unit, the CarPlay/Android-auto unit video signal is shown on the display instead.

When you reverse the car while using the CarPlay/Android-auto system, the system will automatically switch to the camera without manual operation.

You can easily switch back and forth between the CarPlay/Android-auto and your original head unit. (TIPS: Press and hold the "Menu" key to switch the system)

Compatible with all functions of the original car system (most of the steering wheel control functions, original car Idrive knob, original parking sensors, original Car Optic fiber system and so on)

Using the CarPlay/Android-auto Head unit is optional and should be seen as an add-on and not as a replacement.
Function
This is a multimedia touch screen with built-in compatibility with Apple CarPlay and Google Android auto. It will replace your OEM screen and add the following features to your car:

Wireless CarPlay 

(wired and wireless)
Enjoy,control, and view certain iPhone-based apps through the unit (Support wireless & wired connection,Compatible with iPhone 5 and later)
Android Auto 

(wired and wireless)
Access your phone content such as messaging.calling, music services andnavigation while you're driving(Support wireless & wired connection)

Once connected to CarPlay/Android Auto, Siri and Google Assistant can be activated by simply saying "Hey Siri" and "Hey Google" or touching the mic button.Get directions, make calls and more with just a word or a touch.

Plug and play offline music and video, convenient and fast

Easy to switch songs,channels and adjust volumeto provide you a safer and more enjoyable journey

Support various of Maps like Google Maps,Waze and ect...Access anywhere with one touch,
and also helps you find more to see and do when you getthere — whether you're searching for points of interest,driving to a favorite restaurant, or looking for nearby gas stations.

Car Bluetooth phone calls, freeing hands to drive safer

Compatible original cameras and aftermarket cameras(Front camera, Rear camera and 360-degree camera. Automatic switching when reversing)
NOTE:

This unit is not an Android system. It must be connected to your phone (wired or wireless) to use

 

CarPlay

 

and

 

Android auto

 

functions. Without a mobile phone connected, you can only use the OEM system or simple music and video playback functions.
This unit does not support AirPlay and screen mirroring.
Product Specifications
Brand:  Andream
Place of Origin: 
Guangdong, China
SKU: EW969QLCPCC/EW969QLCPCI
Warranty Policy:
  2
-Year warranty
Screen type:  IPS
Resolution:  1280*480
WIFI:  Built-in
USB port:  1
---
Package  

Single Package Size: 32cm*20cm*16cm
Single gross weight: 3KG

1 * Touch Screen
1 * Power Cable
1 * USB Cable




Note: The 8.8-inch frame is silver, and the 10.25-inch frame is black
SCREENSHOT OF SETTINGS:


Shipping
The countries we can currently send to include the United States, the European Union, Russia, Singapore, Australia, New Zealand, Japan, and South Korea. Customers in other countries please consult online customer service.
Shipping cost: We offer FREE international shipping as standard 
Tax: No Tax / No VAT
Order processing time: 1-2 working days
Shipping time:
Shipping country list

Delivery Time

EU countries

Austria, Belgium, Bulgaria, Czech,Cyprus, 
Republic, Denmark, Estonia, Finland, France, 
Germany, Greece, Hungary, Ireland, Italy, Latvia, 
Lithuania, Netherlands, Poland, Portugal, Romania, 
Slovakia, Slovenia, Spain, Sweden, United Kingdom,

NO TAX / NO VAT

2-7 days

North America

United States,Canada

NO TAX / NO VAT

2-7 days

Europe,Oceania

Russia,  Australia,new Zealand

NO TAX / NO VAT

10-20 days

 Asia
Japan, South Korea,  Singapore
 

NO TAX / NO VAT

7-10 days

Shipping Partners
We currently maintain cooperative relationships with 4PX, DHL, CNE and UPS. Our commitment to our customers is to assure the delivery reaches its destination in the quickest manner with the lowest cost.

Shipp Details
After the package is sent, you will receive an email with shipping information.
At the same time, we will also provide you with a Logistics tracking number through paypal.
Of course, you can also enter the logistics tracking number to query logistics information through the logistics website:

DHL:https://www.dhl.de/en/privatkunden.html
CNE:https://www.cne.com/English
UPS:https://www.ups.com
Errors & Omissions for Transportation
We do our best to ensure that the goods arrive the customers safely.
If you find any omissions or damages during the receipt, please keep the outer packaging in time and contact us via email (wzxm@ewaygps.com) or messenger and provide us with evidence.
If the logistics information shows the receipt, but you did not get your product, please contact your local logistics service provider (local post) in time. And provide us with the corresponding evidence, and we will make an inquiry for you.
All claims for loss, damage or delay must be filed within twenty (20) days following the date of delivery or the date on which delivery should have occurred .
Under normal circumstances, we will provide you with a solution within 60 days.
Taxes and Duties
If you choose to send from China, the seller will be responsible for paying taxes. When the goods are delivered to you, you do not need to pay any customs duties.

If you choose to send from Germany,once the parcel reaches its destination country that your order may be subject to customs or import duties that are charged .
According to laws and regulations, these fees need to be paid by the recipient, and we cannot control the specific amount, as customs policies and import duties vary widely from country to country.Customs duty is charged as a percentage of the total value of the goods. The specific ratio will vary according to the policy of the country being sent, but on average is between 3% and 9%.
We generally try to reduce the declared value of the package to reduce taxes and fees, but you may still need to pay a small amount of customs fees.The proportion of this situation is about 1%, so you don't need to worry about it.

If you have other questions, please be sure to contact us:wzxm@ewaygps.com
Warranty Policy:

All Andream units include a 2-year limited warranty.Some products only provide one-year maintenance service, please refer to the product page for details.

Within 2 year after you get the product, if your item(s) are broken or defective, You just need to return it and we will send you a brand new unit. For warranty support, please email us at wzxm@ewaygps.com.

This limited warranty does not cover failures due to abuse, accidental damage, or when repairs have been made or attempted by anyone other than Andream INC. No liability on this warranty shall be incurred in the respect to damage or loss occurring during transit to or from the purchaser. This warranty is personal to the original purchaser and is nontransferable. This warranty gives you specific legal rights and you may also have other rights which vary from state to state.
It's ok
It's an ok upgrade, was expecting it to be able to download apps like YouTube, and what not. Just a basic 10.25 screen for the same price as the one that give you the apps options. Definitely easy to install and works great with all the factory functions, however I would not buy this again.
Please contact our customer service and we will check the logistics status for you.
Best upgrade for the price
I recently purchased the Andream 10.25" Wireless CarPlay Android Auto for my BMW X5 and I must say, I am extremely impressed with the product. Firstly, I would like to commend the seller for their prompt delivery service. Despite my initial concerns about shipping times, the product arrived at my doorstep in just 4 days, which was a pleasant surprise.
Moving on to the actual device, the touch screen is excellent. It is highly responsive and provides a smooth and effortless user experience. Navigating through different menus and apps is a breeze, and I have not experienced any lag or delays while using it. The screen resolution is impressive as well, providing crisp and clear visuals.
One of the standout features of this product is its seamless integration with the original radio and i-drive control system in my BMW X5. The installation process was relatively straightforward, and I was able to connect it to my car's system without any issues. The wireless CarPlay and Android Auto functionalities work flawlessly, allowing me to easily access my favorite apps, make calls, send messages, and use navigation features, all while keeping my eyes on the road.
Moreover, the integration with the i-drive control system is a game-changer. I can control various functions of the device using the i-drive controller, which makes it even more convenient and safe to use while driving. The fact that I can still utilize the original features of my car alongside this upgraded system adds an extra layer of functionality and enhances the overall driving experience.
In conclusion, I highly recommend the Andream 10.25" Wireless CarPlay Android Auto for BMW X5 owners. With its fast delivery, excellent touch screen, and seamless integration with the original radio and i-drive control, this product has exceeded my expectations. It has truly transformed my driving experience, and I couldn't be happier with my purchase.
Amazing !!!
This Radio made my BMW X6 2013 look like a newer model!! Very stylish and classy!! Everything was in the Box that was needed, don't come with information, so you need someone that knows what they're doing! Setting up blue tube was a little difficult. Other then that the product is very good 👍🏽
GREAT customer service
When you first order, a customer service rep will reach out to make sure they are sending the right model. I really appreciated this because I ordered the wrong one 😅. That was great and the unit came within 2 days of confirming my vehicle make and model. Easy install took me and my buddy about an hour and a half. But I LOVE the upgrade it really feels like a new car.