10.25" Android 10.0 4G+64G Qualcomm Octa-core built-in 4G-LTE IPS Car Interface MultiMedia for BMW X5 E70 X6 E71 2007-2013 GPS navigation Head unit
SKU: EW969Q8K64-10-CCC
May be you like
You can use CarPlay and Android auto without changing the original car screen. Plug and play.  BUY IT NOW
If you want to use Wireless carplay, you can order it.  BUY IT NOW
---
Applicable models and years
For CCC system
BMW X5(E70) 2007, 2008, 2009
BMW X6(E72) 2008, 2009
For CIC system
BMW X5(E70) 2009, 2010, 2011, 2012, 2013
BMW X6(E71) 2009, 2010, 2011, 2012, 2013, 2014
If your original car have't AUX IN, you need to purchase a Bluetooth transmitter. Then original car audio can make sound.

Description:
1. Support all functions of the original car. Plug and play.
2. Support original radio system such as radio, CD, BT, Rear camera, Parking sensor and iDrive.
3. Switch to android or original system freely (press Menu key on iDrive controller over 2 seconds to switch between two system easily).
4. Support Mirror connection two way control ( IOS & Android).
5. Built-in GPS Navigation system, GPS support iGo map and waze etc.
6. Qualcomm processor version built-in 4G-LTE Module.
7. Built-in Bluetooth(Hands-Free Calling and Audio Streaming)
8. Built in microphone and WiFi dongle.
9. ID6/ID7 UI optional inside the factory setting.
10.
Built-in more than 20 menu languages.
11.
The compatible Trunk Handle Rearview Camera (
BUY IT NOW
 ) and DAB+Radio
(BUY IT NOW
)
All necessary cables are included in package for plug and play installation.
---
Quick Details:
| | |
| --- | --- |
| Place of Origin | Guangdong, China |
| Brand Name | Andream |
| Warranty | 1 Years |
| CPU | Qualcomm Snapdragon 625 processor (MSM8953  Octa-core A53 2.0GHz) |
| Screen | 10.25inch IPS touch screen 1280*480 |
| RAM | 4G |
| ROM | 64G |
| Android version | Android 10.0 |
| USB | 2 (MAX 128G) |
| 4G-LTE | Built-in 4G-LTE Module (Qualcomm processor version). |
| Other | Built-in Bluetooth, microphone, WIFI antenna |
---
Product packaging: 
Single Package Size: 32cm*17cm*22cm
Single gross weight: 3KG
1 

* Touch Screen
1 * Power Cable
1 * USB Cable
1 * GPS Antenna
1 * 4G-LTE Cable 

1 * Fixed Bracket
2 * Metal Bracket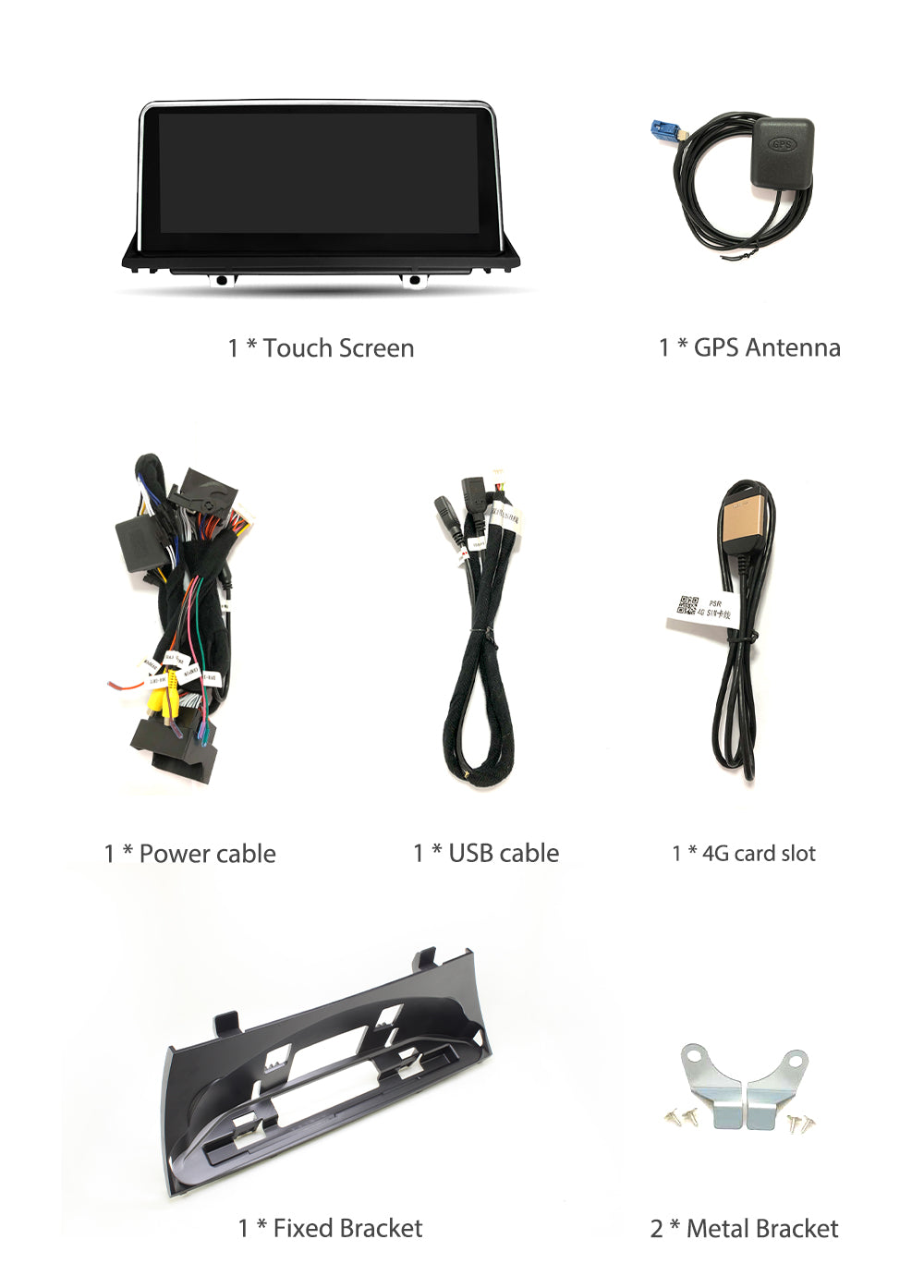 Digital dashboard:

Switching system
Switch to android or original system freely (press Menu key on iDrive controller over 2 seconds to switch between two system easily).
If your car has no original system, you can only use Android.
Rear Camera
Support for original camera and Parking sensor, Plug and play, no coding required. (If your car doesn't have an original camera, you can order it.)   BUY IT NOW
Bluetooth
Supports Bluetooth calls and Bluetooth music.
4G-LTE

The Android unit has a 4G-LTE card slot. You can insert a SIM card to use 4G network.
Compatible network standards:
FDD-LTE, TDD-LTE,
LTE BROADCTST, WCDMA
Please use Mini-SIM Card (25mm * 15mm)
Maps
Support online and offline navigation. Google Map, IGO, Sygic, etc.
Screen Mirror

Support Screen Mirror link two way control ( IOS & Android).
Note: Please open the EasyConnection app to use this feature.
UI SCREENSHOT:
ID7

ID6

 Free shipping
It's tax free for all the shipping area we supported. 
Shipping country list

Delivery Time

EU countries

Austria, Belgium, Bulgaria, Czech,Cyprus, 
Republic, Denmark, Estonia, Finland, France, 
Germany, Greece, Hungary, Ireland, Italy, Latvia, 
Lithuania, Netherlands, Poland, Portugal, Romania, 
Slovakia, Slovenia, Spain, Sweden, United Kingdom,

NO TAX / NO VAT

2-7 days

North America

United States

NO TAX / NO VAT

7-10 days

Europe,Oceania

Russia,  Australia

NO TAX / NO VAT

10-20 days

 Asia
Japan, South Korea,  Singapore
 

NO TAX / NO VAT

7-10 days

Shipping Partners
We currently maintain cooperative relationships with DHL and 4PX. Our commitment to our customers is to assure the delivery reaches its destination in the quickest manner with the lowest cost.
Warranty Policy:
All Andream units include a 1-year limited warranty.If your item(s) are broken or defective, You just need to return it and we will send you a brand new unit. For warranty support, please email us at wang17503401980@gmail.com.
This limited warranty does not cover failures due to abuse, accidental damage, or when repairs have been made or attempted by anyone other than Andream INC. No liability on this warranty shall be incurred in the respect to damage or loss occurring during transit to or from the purchaser. This warranty is personal to the original purchaser and is nontransferable. This warranty gives you specific legal rights and you may also have other rights which vary from state to state.
Refund Policy:
If the product has any unsolvable technical problems, please email wang17503401980@gmail.com within 30 days(subject to logistics display delivery) after receiving the goodsfor instructions on how to return Andream for a full refund or exchange.

But if you don't like it or you buy it wrong or it doesn't meet your expectations. I am sorry that we cannot offer you a refund service. 

For the return, the goods should be in their original condition.

Products should be returned to our specified warehouse. We will not refund you if you send back to another location without permission.
A very beautiful product...
I installed on my BMW X6 the 10.25 "Android 9.0 4G + 64G… It is really very good !!!
I will have two improvements for you :
- It would be nice if the Music menu could be set (as for the Navigation menu) to choose between locally recorded music and streaming applications (Deezer, Spotify, …)
- For the navigation menu settings, it would be necessary that the list of the choices of applications (Google Map, Waze, ...) can also displayed the application Coyote (if it is installed of course)
In any case, you made with this device, a very beautiful product. Thank you.
Worked as expected
Very good product and good seller respond to your request very fast and very helpful, I recommend to buy from this seller.
Заказ был доставлен в Белгородскую область за 11 дней в почтовое отделение, посылка отслеживалась все время. Упаковка- качественная, дошло без повреждений. Описанию - соответсвует. Устанавливали самостоятельно по инструкции, проблем не возникло. Монитор – качественный (Philips), все не успели изучить, но то, что уже протестировали – работает четко, вещь классная. Продавцу спасибо.
10.25" Android 9.0 4G+64G Qualcomm Octa-core built-in 4G-LTE IPS Car Interface MultiMedia for BMW X5 E70 X6 E71 2007 2008 2009 2010 2011 2012 2013 GPS navigation Head unit