10.25" Android 10.0 4G+64G Qualcomm Octa-core built-in 4G-LTE IPS Car Interface MultiMedia for BMW Series 5 F10 F11 F18 GPS navigation Head unit
SKU: EW964Q8K64NBT-P
May be you like
You can use CarPlay and Android auto without changing the original car screen. Plug and play.  BUY IT NOW
---
Applicable models and years
For CIC system
BMW 5 Series 4-door sedan/saloon (F10) 2010-2012
BMW 5 Series 5-door Touring(F11) 2010-2012
For NBT system
BMW 5 Series 4-door sedan/saloon (F10) 2012-2019
BMW 5 Series 5-door Touring(F11)
2012-2019
BMW 5 Series 4-door long wheelbase sedan(F18)
2012-2019
Note:
1.Not compatible with the original car is ID6 interface models;
2.If your car is a 2012 and 2013 model, please check that the LVDS cable on the back of the screen is 4PIN or 6PIN, 4PIN is the CIC system, and 6PIN is the NBT system;
3.Please make sure your car has AUX function. The Android head unit outputs sound through AUX.
Description:
1.
 Support all functions of the original car. Plug and play.
2.
Support original radio system such as radio, CD, BT, Rear camera, Parking sensor and iDrive.
3.
Switch to android or original system freely (press Menu key on iDrive controller over 2 seconds to switch between two system easily).
4.
The compatible Trunk Handle Rearview Camera (
BUY IT NOW
 ) and DAB+Radio (
BUY IT NOW
)
5.
Built-in GPS Navigation system, GPS support iGo map and waze etc.
6.
Qualcomm processor version built-in 4G-LTE Module.
7.
Built-in Bluetooth(Hands-Free Calling and Audio Streaming)
8.
Built in microphone and WiFi dongle.
9.
ID6/ID7 UI optional inside the factory setting.
10. Built-in more than 20 menu languages.

All necessary cables are included in package for plug and play installation.
---
Quick Details:
| | |
| --- | --- |
| Place of Origin | Guangdong, China |
| Brand Name | Andream |
| Warranty | 1 Years |
| CPU | Qualcomm Snapdragon 625 processor (MSM8953  Octa-core A53 2.0GHz) |
| Screen | 10.25inch IPS touch screen 1280*480 |
| RAM | 4G |
| ROM | 64G |
| Android version | Android 10.0 |
| USB | 2 (MAX 128G) |
| 4G-LTE | Built-in 4G-LTE Module (Qualcomm processor version). |
| Other | Built-in Bluetooth, microphone, WIFI antenna |
---
Product packaging: 
Single Package Size: 32cm*17cm*22cm
Single gross weight: 3KG
1 * Touch Screen
1 * Power Cable
1 * USB Cable
1 * GPS Antenna
1 * 4G-LTE cable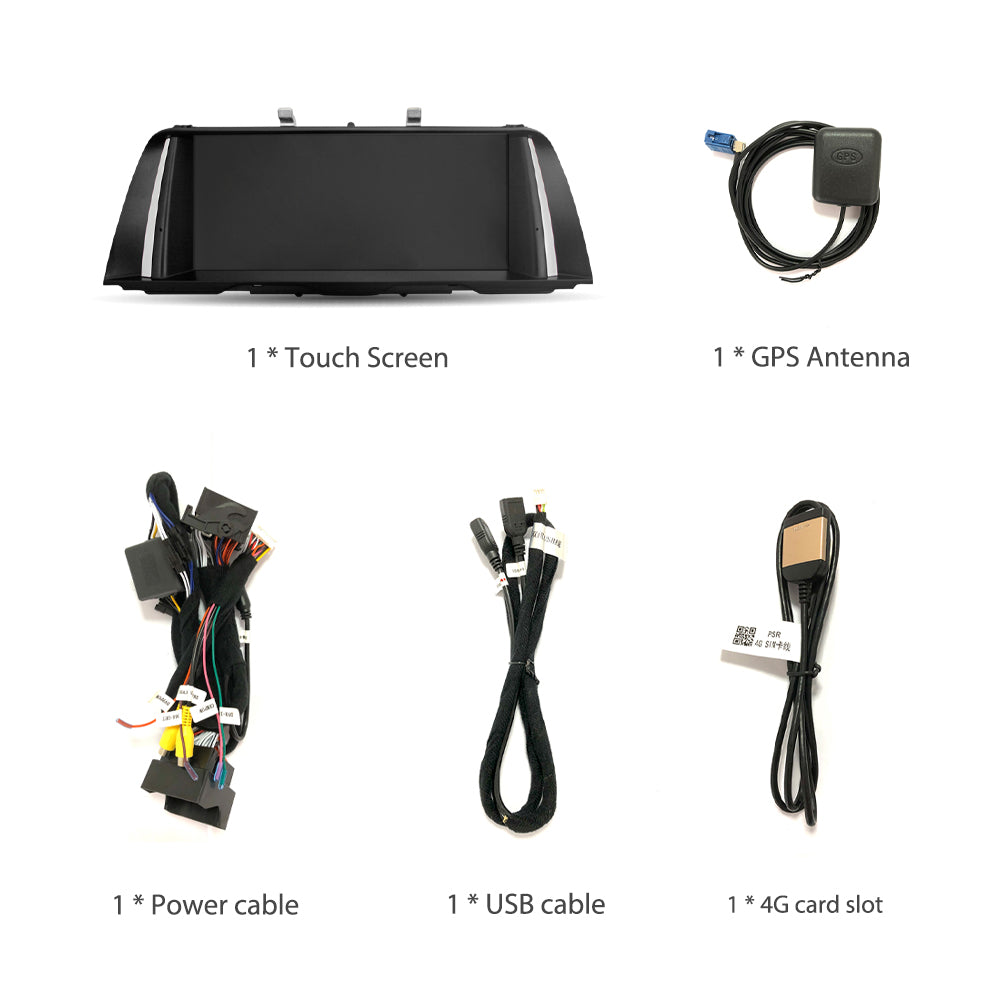 ---
Digital dashboard:

Switching system
Switch to android or original system freely (press Menu key on iDrive controller over 2 seconds to switch between two system easily).
If your car has no original system, you can only use Android.
Rear Camera
Support for original camera and Parking sensor, Plug and play, no coding required. (If your car doesn't have an original camera, you can order it.)   BUY IT NOW
Bluetooth
Supports Bluetooth calls and Bluetooth music.
4G-LTE

The Android unit has a 4G-LTE card slot. You can insert a SIM card to use 4G network.
Compatible network standards:
FDD-LTE, TDD-LTE,
LTE BROADCTST, WCDMA
Please use Mini-SIM Card (25mm * 15mm)
Maps
Support online and offline navigation. Google Map, IGO, Sygic, etc.
UI SCREENSHOT:
ID7

ID6

Shipping
Shipping cost: We offer FREE international shipping as standard 
Tax: No Tax / No VAT
Order processing time: 1-2 working days
Shipping time:
Shipping country list

Delivery Time

EU countries

Austria, Belgium, Bulgaria, Czech,Cyprus, 
Republic, Denmark, Estonia, Finland, France, 
Germany, Greece, Hungary, Ireland, Italy, Latvia, 
Lithuania, Netherlands, Poland, Portugal, Romania, 
Slovakia, Slovenia, Spain, Sweden, United Kingdom,

NO TAX / NO VAT

2-7 days

North America

United States

NO TAX / NO VAT

7-10 days

Europe,Oceania

Russia,  Australia

NO TAX / NO VAT

10-20 days

 Asia
Japan, South Korea,  Singapore
 

NO TAX / NO VAT

7-10 days

Shipping Partners
We currently maintain cooperative relationships with DHL and CNE. Our commitment to our customers is to assure the delivery reaches its destination in the quickest manner with the lowest cost.

Shipp Details
After the package is sent, you will receive an email with shipping information.
At the same time, we will also provide you with a tracking number through paypal.
Taxes and Duties
If you choose to send from China, the seller will be responsible for paying taxes. When the goods are delivered to you, you do not need to pay any customs duties.

If you choose to send from Germany,once the parcel reaches its destination country that your order may be subject to customs or import duties that are charged .
According to laws and regulations, these fees need to be paid by the recipient, and we cannot control the specific amount, as customs policies and import duties vary widely from country to country.Customs duty is charged as a percentage of the total value of the goods. The specific ratio will vary according to the policy of the country being sent, but on average is between 3% and 9%.
We generally try to reduce the declared value of the package to reduce taxes and fees, but you may still need to pay a small amount of customs fees.The proportion of this situation is about 1%, so you don't need to worry about it.

If you have other questions, please be sure to contact us:wzxm@ewaygps.com
Refund Policy:
Return conditions:
If the product has any unsolvable technical problems, please email wzxm@ewaygps.com within 2 years(subject to logistics display delivery) after receiving the goods for instructions on how to return product for a full refund or exchange or maintain. Our products support 30 days return, 6 months replacement and free maintenance service within two years.

Note:For orders over 30 days, we do not provide refund service. But you can replace it.


Return address:

Note:Products should be returned to our specified warehouse. We will not refund you if you send back to another location without permission.So please contact us before preparing to return or replace the product.

Street:sha jing jie dao, sha yi she qu, a fan da ben ran fei yi wen hua chan ye yuan 422
District:Bao an
City: Shen zhen
zip code: 518101
Country: China
+86 17503401380

Please check the address with us again before returning the package.

Return cost: The cost of returning the product shall be borne by the buyer.

Refund time:
If you need a refund, then we will process the refund for you within 7 working days after receiving your returned. Please keep in touch with us.
If you need to replace the product, then we will confirm the address with you after receiving the returned, and send you a brand new product within 2-3 working days, you do not need to bear any other costs.

Other charges:There are no ohter charges



Warranty Policy:

All Andream units include a 1-year limited warranty.

Within 2 year after you get the product, if your item(s) are broken or defective, You just need to return it and we will send you a brand new unit. For warranty support, please email us at wzxm@ewaygps.com.

This limited warranty does not cover failures due to abuse, accidental damage, or when repairs have been made or attempted by anyone other than Andream INC. No liability on this warranty shall be incurred in the respect to damage or loss occurring during transit to or from the purchaser. This warranty is personal to the original purchaser and is nontransferable. This warranty gives you specific legal rights and you may also have other rights which vary from state to state.
Excellent system
The product look and options are awesome! I unfortunately can't get the audio of the Android system to work...also, moving from a 6" screen to the 10" screen will only show half images and weird lines on the other half. Working with Andream to see if we can correct the issues. Will update review after sometime. Also, BT calls are not heard in the car...Audio issues?
Great product
The order arrived a bit later than expected, but it arrived in good working condition. We are happy with the purchase and will buy again.
Good System
Arrived on time nicely packed, got it installed but unfortunately did not get the sound on the main speakers.
Just found the solution on the internet and I am going to try to solve it, could be some instruction on wiring attached so any garage would be able to connect it.
Have to do it again and as I am not good at connecting electronics devices have to pay twice.
Except this everything works perfect still did not connect the camera but hope it will work well.