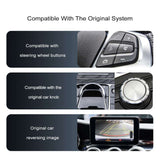 Wireless CarPlay Android Auto MMI Interface Adapter Prime Retrofit For Mercedes Benz NTG 4.5 4.7 4.8 5.0 5.1 Airplay Upgrade Box Mirror Link
SKU: EWM-BZCP-45XA1
COMPATIBLE MODELS:

Car with NTG4.5 / 4.7 system
A Class W176 2013 - 2015 with NTG4.5/4.7 System

B Class W246 2013 - 2015 with NTG4.5/4.7 System

C Class W204 2011 - 2014 with NTG4.5/4.7 System

CLA Class C117 W117 2013 - 2015 with NTG4.5/4.7 System

CLS Class W218 2013- 2015 with NTG4.5/4.7 System

E Class sedan W212 2012 2015 with NTG4.5/4.7 System

E Class coupe C207 A207 2012 2015 with NTG4.5/4.7 System

G Class W463 2012 - 2015 with NTG4.5/4.7 System

GLA Class X156 2013 - 2015 with NTG4.5/4.7 System

GLK Class 2013 - 2015 with NTG4.5/4.7 System

ML / GL 2012 - 2015 with NTG4.5/4.7 System

SLK R172 2011 - 2015 with NTG4.5/4.7 System
Car with NTG5.0 / 5.1 system
A Class W176 2016 - 2018 with NTG5 or newer system

B Class W246 2016 - 2018 with NTG5 or newer system

C Class W205 2015 - 2018 with NTG5 or newer system

CLA Class 2016 - 2018 with NTG5 or newer system

CLS Class W218 2015- 2016 with NTG5 or newer system

E Class sedan W212 2015 with NTG5 or newer system

E Class coupe C207 A207 2015 with NTG5 or newer system

G Class W463 2016 - 2017 with NTG5 or newer system

GLA Class X156 2016 - 2018 with NTG5 or newer system

GLC Class X253 C253 2015 - 2018 with NTG5 or newer system

GLE GLS Class 2016 - 2018 with NTG5 or newer system

SLK R172 2016 - 2018 with NTG5 or newer system

S Class W222 2014 – 2018 with NTG5 or newer system

CL Class W216 C216 2014 – 2018 NTG5 or newer system

V Class W447 2015 - 2018 with NTG5 or newer system

X Class W470 2015 - 2018 with NTG5 or newer system
For models not listed above, please consult our customer service staff in time.
Notice:

1) Before purchasing, please send the pictures of Car's center console to the seller to confirm.
2) Before installing, please make sure that your car's AUX is activated.
3) The product support upgrade firmware, 2 years of Warranty.
What is NTG?
NTG is short for New Telematics Generation of Mercedes Benz Cockpit Management and Data system (COMAND). 
As time goes by, Mercedes Benz started from COMAND 2.5, and current latest version is COMAND NTG 6.0(MBUX) in 2019. 
How to check Mercedes NTG version? 
Let's turn on Mercedes-Benz factory head unit, enter main menu interface.
We can simply tell the difference among NTG 4.0/ NTG 4.5/ NTG 4.7/ NTG 5.0/ NTG 6.0(MBUX) from the following picture:
 QUICK DETAILS:



Place of Origin:




Guangdong, China




Model Number:

EWM-BZCP

Product Features:

Apple CarPlay, AirPlay,Android auto,Screen mirror,WIFI,Bluetooth, USB, 

Youtube




Warranty:




2 Years




Connection Methods:




Wireless bluetooth or USB cable




Vioce control:




Apple Siri, Google Assistant




Support:




Apple CarPlay and Android auto




Operating Methods:




Steering Wheel, Knob, button,voice control




Parking:

Parking sensor,Front and Reverse camera




System update:




Free update




Certificate:




CE/ROHS




Single Package Size:




28.5cm*23.5cm*7.5cm

Single gross weight:
1kg



FUNCTION:
1. Work with wireless Apple CarPlay, pairing via Bluetooth, transfer via WIFI.
2. New Airplay function, connected with USB cable, playing movie/navigation/music with iPhone
3. To Work with Wired CarPlay also, turn off wifi at first, and connect via lighting cable(wired keep your phone charged at the same time)
4. Android Auto, Android Mirroring-Link for Android Phones
5. GPS navigation Apps, Google Maps, Waze and Apple Maps are all available, live traffic information
6. Music Apples Spotify, Apple Music, Amazon etc.audio through factory PCM media, lyrics show on display for some apps.
7.Enjoy your favorite videos and music.
8. Voice control by saying "Hey Siri…"
9. Aftermarket front/rear/360 camera input. (Dynamic guidance lines are supported)
10. USB flash drive to play music and videos by connecting USB port from CarPlay kit
11. EQ adjustable.The best audio quality. Freely choose your favorite style (Pop, Rock, Soft, Standard..)
12. Full OEM buttons control.
13.Plug and play, no encryption
14.HDMI input, with HDMI device to get more high-definition video.








Shipping
The countries we can currently send to include the United States, the European Union, Russia, Singapore, Australia, New Zealand, Japan, and South Korea. Customers in other countries please consult online customer service.
Shipping cost: We offer FREE international shipping as standard 
Tax: No Tax / No VAT
Order processing time: 1-2 working days
Shipping time:
Shipping country list

Delivery Time

EU countries

Austria, Belgium, Bulgaria, Czech,Cyprus, 
Republic, Denmark, Estonia, Finland, France, 
Germany, Greece, Hungary, Ireland, Italy, Latvia, 
Lithuania, Netherlands, Poland, Portugal, Romania, 
Slovakia, Slovenia, Spain, Sweden, United Kingdom,

NO TAX / NO VAT

2-7 days

North America

United States,Canada

NO TAX / NO VAT

2-7 days

Europe,Oceania

Russia,  Australia,new Zealand

NO TAX / NO VAT

10-20 days

 Asia
Japan, South Korea,  Singapore
 

NO TAX / NO VAT

7-10 days

Shipping Partners
We currently maintain cooperative relationships with 4PX, DHL, CNE and UPS. Our commitment to our customers is to assure the delivery reaches its destination in the quickest manner with the lowest cost.

Shipp Details
After the package is sent, you will receive an email with shipping information.
At the same time, we will also provide you with a Logistics tracking number through paypal.
Of course, you can also enter the logistics tracking number to query logistics information through the logistics website:

DHL:https://www.dhl.de/en/privatkunden.html
CNE:https://www.cne.com/English
UPS:https://www.ups.com
Errors & Omissions for Transportation
We do our best to ensure that the goods arrive the customers safely.
If you find any omissions or damages during the receipt, please keep the outer packaging in time and contact us via email (wzxm@ewaygps.com) or messenger and provide us with evidence.
If the logistics information shows the receipt, but you did not get your product, please contact your local logistics service provider (local post) in time. And provide us with the corresponding evidence, and we will make an inquiry for you.
All claims for loss, damage or delay must be filed within twenty (20) days following the date of delivery or the date on which delivery should have occurred .
Under normal circumstances, we will provide you with a solution within 60 days.
Taxes and Duties
If you choose to send from China, the seller will be responsible for paying taxes. When the goods are delivered to you, you do not need to pay any customs duties.

If you choose to send from Germany,once the parcel reaches its destination country that your order may be subject to customs or import duties that are charged .
According to laws and regulations, these fees need to be paid by the recipient, and we cannot control the specific amount, as customs policies and import duties vary widely from country to country.Customs duty is charged as a percentage of the total value of the goods. The specific ratio will vary according to the policy of the country being sent, but on average is between 3% and 9%.
We generally try to reduce the declared value of the package to reduce taxes and fees, but you may still need to pay a small amount of customs fees.The proportion of this situation is about 1%, so you don't need to worry about it.

If you have other questions, please be sure to contact us:wzxm@ewaygps.com
Warranty Policy:

All Andream units include a 2-year limited warranty.Some products only provide one-year maintenance service, please refer to the product page for details.

Within 2 year after you get the product, if your item(s) are broken or defective, You just need to return it and we will send you a brand new unit. For warranty support, please email us at wzxm@ewaygps.com.

This limited warranty does not cover failures due to abuse, accidental damage, or when repairs have been made or attempted by anyone other than Andream INC. No liability on this warranty shall be incurred in the respect to damage or loss occurring during transit to or from the purchaser. This warranty is personal to the original purchaser and is nontransferable. This warranty gives you specific legal rights and you may also have other rights which vary from state to state.
Carplay mmi for Mercedes Benz
I have installed Carplay for almost 2 years and do not regret buying it. It works perfectly, Spotify, Waze, Maps and Google Maps, Amazon Music, and even write Whatsapp with voice prompts, I like Andream! Installation takes about 1-2 hours, depending on manual flexibility, but is doable for everyone.